In order to ensure the safety and reliability of food as well as product quality
that satisfies customers, we established the Quality Assurance Group
in the Administration Division. The Quality Assurance Group
takes proactive action concerning safety management
in accordance with the Food Safety Management System,
which is the Toyota Tsusho Group's integrated management system.
The Food Safety Management System is based on four pillars, namely: 1) rules for the careful selection of suppliers, 2) rules for local management by suppliers, 3) rules for overseas and domestic inspections, and 4) a manual for accident response. The system was formulated through collaboration with Toyota Tsusho Corporation and an external specialist organizations, and is used throughout the Toyota Tsusho Group.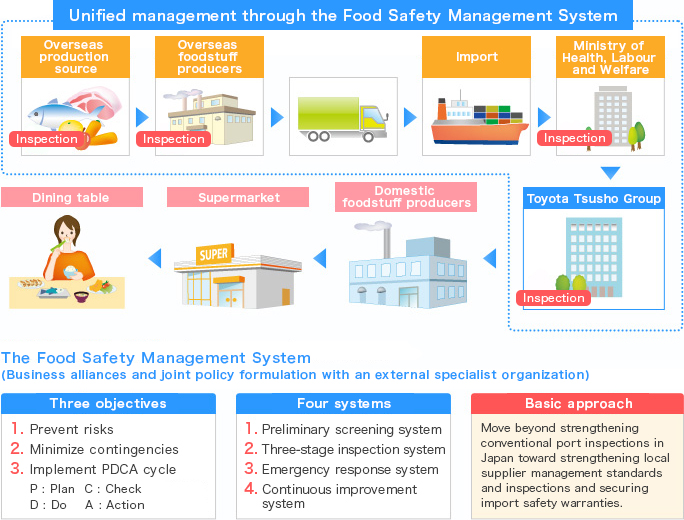 For the selection of suppliers, both an examination of documents as well as an audit of plants are implemented. Only superb suppliers that pass our standards are selected and registered.
After we register a supplier, it implements work to improve plants after audits alongside regular audits, striving to improve the supplier's level of management.
Furthermore, inspections by the supplier as well as those by us are implemented according to our inspection rules.
If a serious problem such as a legal violation is found as a result of these inspections, we take measures to eliminate the goods in question and ensure that they are not distributed.

We strive to ensure the safety and reliability of food by complying with the above management rules.