Our unique quality control system
to ensure food safety and security
Toyota Tsusho Foods Corporation has a Quality Assurance Group consisting of officers
with specialist quality assurance knowledge. We employ a comprehensive quality management structure
based on our proprietary food safety management system in order to manage suppliers,
comply with food laws and regulations, and train our personnel.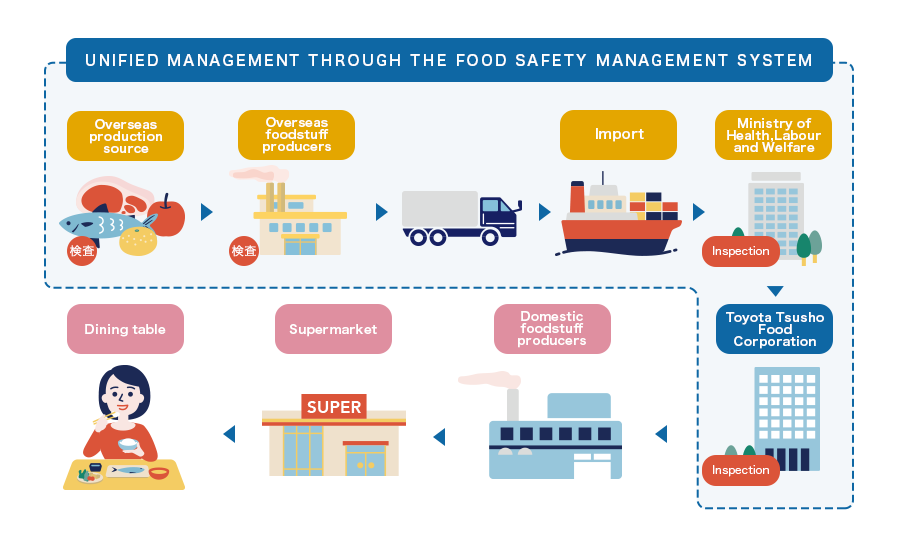 Action 1
Selecting and managing suppliers
with our food safety management system
All of our suppliers trade with us on a registration basis.
We do business only with suppliers that meet specific criteria (we do not do business with unregistered suppliers).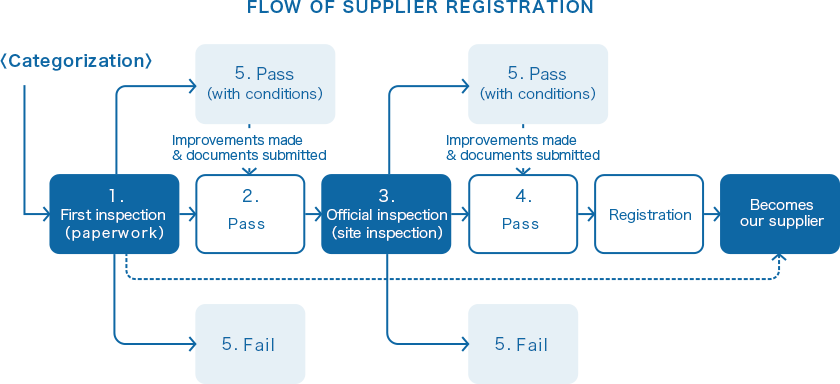 ・ Based on our unique checklist, our Quality Assurance Group inspects the supplier's local quality management structure to ensure product safety.
・If issues are identified during the inspection, the group instructs the supplier to make improvements and issues plant management instructions to the supplier.
・Even after we start doing business with a supplier, we continue to conduct periodic inspections in order to check the supplier's plant management structure based on previous points we have raised as needing improvement.
Inspection of suppliers' quality management structures
Checked item
Main content
Organizational management structure
How management documents are organized & how quality management is inspected
State of efforts on compliance, appropriate response to claims
Process management
Acceptance inspections, production process management criteria, work procedure manuals
Prevention of contamination and entry of foreign substances, managing the use of additives
Basic management
Five keys for a safe plant and premises (organization, tidiness, cleaning, hygiene, discipline)
Pest control, cleaning/washing/sterilization methods, food defense
Employee management
Conducting carefully planned training, dress code, shoes, grooming
Prevention of contaminants (e.g., hair), conducting medical checkups and stool tests
Building & facility management
Employee entrances/exits, doors, hand-washing, shoe-washing, washrooms
Checking raw materials at the entrance and final products at the exit

Action 2
Checking and timely sharing of food safety information
We collect information, including updates on the following matters,
in a timely manner, and we inform relevant divisions to ensure safety.
● Response to relevant laws, regulations, and criteria updates:

We share information on food/food additives/pesticide remnants/animal drug criteria and regulation updates as well as on changes to inspection targets and items subject to government orders and monitoring.

● Response to incidents by other companies:

We share cases of legal violations and accidents at other companies in order to prevent accidents in advance (our relevant divisions notify and warn suppliers).

● Checking of food labelling and product specification documents:

We check the food labels of our products and product specification documents that we submit to customers. We also give guidance to suppliers on points to note regarding food labelling.
Action 3
Internal safety training
We conduct food safety training as described below for all of our employees.
● We provide education to our employees in order to improve their expertise with respect to basic food knowledge, food safety, and food-related laws and regulations (on pesticide remnants, food additives, and hygiene standards).
● We provide our employees with knowledge of hygiene control for each food item so that when they visit supplier plants, they are able to inspect the plant's hygiene control.
●We strive to raise employee awareness on food safety by sharing information on food-related accidents in order to prevent such accidents.
Action 4
Other initiatives
The Food Safety Promotion Office at our local Chinese corporation partners with our Quality Assurance Group in order to check the quality management of our suppliers in China. If we receive an inquiry from a customer, the Food Safety Promotion Office can check the local state of affairs, immediately surveying the cause and implementing a response.